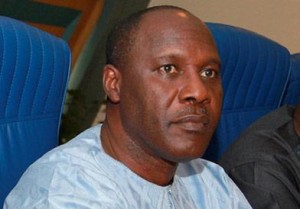 Former minister of Niger Delta affairs and governorship aspirant on the platform of the Peoples Democratic Party in Delta State, Elder Godsday Orubebe, in this interview with Sola Adebayo, speaks on the re-election bid of President Jonathan in 2015, his governorship bid and his perception of Governor Emmanuel Uduaghan.

You played a key role in the election of President Goodluck Jonathan in 2011, what do you think informed his reluctance to declare his intention to seek re-election?
I played a key role in the election of President Goodluck Jonathan in 2011 and I am still playing that key role to sustain the tempo to make him by the grace of God, the president of Nigeria again to complete his eight years.
I do not think the president is reluctant to come out again to contest, there is always time for every activity and he is waiting for the right time to come and declare to Nigerians, that was what he did in 2011 and so at the right time, which is not too far again, Mr. President will come and declare for the presidency of this country again. The president surely will contest.
Even if he was not going to contest, we will draft him to come and complete his eight years. This is the first time somebody from the south-south has come on board to preside over the affairs of this country and I think it is only reasonable to allow him to complete his two-term of eight years.
How do you react to the speculation that the President is worried by the opposition from the North and that that has prevented him from declaring his re-election bid?
I think that so many people do not actually know the kind of president that they have. If you get close to the president the way some of us have been close to him, you will know that the president isnot jittery but he is a president that is calculating, a president who believes in the rule of law.
Do you think that Jonathan can win election if you look at the scenario in the country now?
I can tell you from where I am sitting now that Mr. President is going to win massively again and again. Let me tell you that Nigerians are becoming more aware, it is not a situation where somebody somewhere is coming to tell them story.
Nigerians are aware that our railways have started working, they are aware that our educational institutions are getting attention, Nigerians are aware that our airports are better.