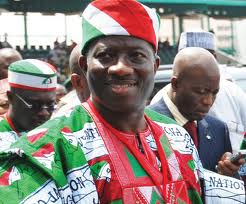 The South-South  Forum  of   the  Peoples Democratic Party has told President Goodluck Jonathan that now is the most appropriate time for him to declare his ambition for a second term in 2015. The forum said this on Tuesday in Lagos at an event to canvass support for the President's second term ambition.
The PDP chairman in Lagos State, Mr. Olatunji Shelle; former Minister of Works, Chief Adeseye Ogunlewe; and others at the occasion also called on members of the forum in the state to vote for the PDP in both the presidential and governorship elections next year.
Jonathan has remained silent on whether he would seek second term in office or not but analysts have said that the President's body language has shown clearly that he would seek another term in office during the 2015 general elections. He said during his media chat on Monday that making a declaration of his ambition at the moment could create problems in the polity. But the South-South PDP Forum on Tuesday urged the President to take advantage of his "record-breaking achievement of convening a national conference," to declare his desire for second term.
Chairman of the forum's Board of Trustees, Chief Vincent Amadi, said, "My charge to us is to do everything possible to make the national conference a success by encouraging the President and urging him on positively.  More importantly, he should seize the moment and take full advantage of his constitutional right as a first term President. Consequently, there couldn't be a better time for him to declare for second term in the office than now. This will enable him to kickstart and pilot the implementation of the declarations at the national conference."
Chairman of the forum, Mr. Sunday Ekanem, who said Jonathan was deserving of being voted for second term, also expressed the determination of the forum to ensure that the  PDP wins the governorship election in Lagos State in 2015.
Ekanem said, "South-South PDP is not only concerned about President Goodluck Jonathan and his victory but also the general success of the party at the polls in Lagos. Therefore, we want to place here on record that we have resolved to work tirelessly to ensure the enthronement of PDP at Alausa come 2015."
Shelle said those who defected from the party were those who did not want Jonathan to achieve his second term ambition.
"Those who don't want the President's second term to be possible have left the party. Many who left are also coming back. Before the end of the year, we are going to open the floodgate of membership in the state," Shelle said.
Source:http://www.punchng.com/news/2015-ssouth-pdp-tells-jonathan-to-declare-ambition/