In an interview with journalists, the Governor of Katsina State, Alhaji Ibrahim Shema, speaking on the crisis rocking the Peoples Democratic Party  mentioned that the party is a truly national one whose actions concern every Nigerian.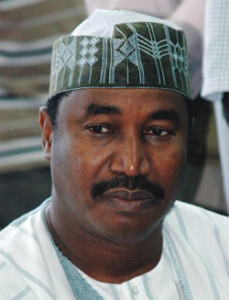 When asked if he considered the actions of the PDP National chairman as effective in resolving the issues rocking the party, a result of which led to the defection of som of his colleagues to the APC, he said: "We have our challenges. That is not to say other parties don't have challenges. The reason why people see our own is because of our size and in politics, size does matter. It is always easy to talk about differences in political parties, or any organisation. What people fail to realise is that the PDP has succeeded tremendously in Nigeria since 1999.
First of all, in capturing and retaining power, the party has succeeded in the first transition, from one civil rule to the other. I know PDP belongs to Nigerians and that is why everybody talks about PDP, even non-party members, who belong to the opposition political parties. Because it is truly a Nigerian party, every Nigerian thinks PDP is his own. Unlike other parties where you can say Mr. A. owns this party or that party belongs to group A, but PDP really belongs to Nigerians. It is truly a national party; that's why whatever affects PDP, affects Nigeria; even the opposition talks about PDP, even you journalists, as if you belong to that party, you are worried about what we do. It is because it is truly a national party.
On the challenges we are facing over defection, I am sure you are aware of the efforts made by Mr. President to make sure that they (five governors) didn't leave the party, to change the tide of those who wanted to leave. Even in a family there is bound to be a quarrel but to resolve the issues maturely is the way of the PDP.
Look at the issues of the resignation of our former chairman, Bamanga Tukur. At the end of the day, PDP is the only party in Nigeria where a party chairman can resign and another one steps in without rancor and breaking of heads. I don't know of any other party in Nigeria that does this except PDP.  Hope is not lost on the question of reconciliation. We can reach out and reconcile with those people. Of course, politics is a voluntary business.
Those who don't want to belong to PDP, I am sure they have their reasons why they don't want to belong to PDP, but as they are leaving, let me assure you that others will be moving in. That's politics. In fact, there are those who left PDP, who rushed back.
It will be in the interest of Nigeria if PDP continues to do what it is doing, to stabilise Nigeria. You people know the situation of this country in 1998. It is the emergence of PDP that was probably the saving grace of our nation that helped to put the nation back to the path of peace and harmony."
Cick here to read the full interview
Source: http://www.punchng.com/politics/those-leaving-pdp-have-their-reasons-shema/