The hope that Nigeria will hold a successful transitional election next year will go up in smoke, unless the Attahiru Jega-led Independent National Electoral Commission (INEC) gets its act right with the two governorship polls coming up in Osun and Ekiti states later this year. This is the submission of former Petroleum Resources Minister, Prof. Tam David-West, in an interview he granted The Sun on the state of the nation.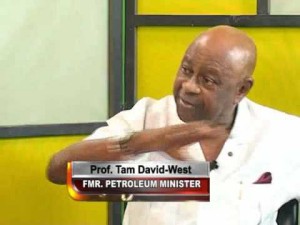 The gadfly described the fast approaching ballots as a test case for the general elections, stressing: "There can't be 2015 without a credible 2014" and regretting a statement credited to the INEC boss that the commission did not promise a perfect exercise in 2015. To him, Jega should just resign as his statement amounted to an admission of failure.
Underscoring his position, the professor of Virology made an academic analogy, saying a dull undergraduate student could not make a brilliant postgraduate student, as he needed his prowess at the undergraduate class to perform at the degree level.
Dismissing the proposed national conference as unnecessary jamboree and waste of time and resources, the former minister challenged delegates not to draw any reward or perquisites for participation as a measure of their patriotism, if the exercise, for which N7 billion has been earmarked in this year's budget, must hold at all.
Source: http://sunnewsonline.com/new/politics/jega-bungles-osun-ekiti-forget-2015-david-west/