Despite widespread applause for the recent Ekiti State governorship election, the Independent National Electoral Commission (INEC) is working hard to make the upcoming Osun State governorship election better, the Chairman, Professor Attahiru Jega, has said.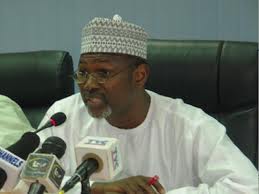 He said no effort would be spared to make the Osun election scheduled for August 9, 2014, more qualitative in all aspects than the June 21 Ekiti State election which has been widely acclaimed as the best so far by the Commission. He spoke on Tuesday, July 1, 2014, when the Ambassador of the Peoples Republic of China, H. E. Gu Xiaojie, paid a courtesy visit to the Commission.
The Chairman said the present Commission had since 2010 when it came on board been devoted to improving the electoral process in Nigeria, "to make it more participatory and ensure that it is more transparent, that elections are conducted consistent with international best standards and in accordance with our own electoral laws."
He added: "Since 2011, we have been doing our best to keep on improving the integrity and transparency of the electoral process. We have cleaned up the Register of Voters, and we have been doing our best to address the challenge of logistics of deployment, which has been a major obstacle to our conduct of good elections. I am pleased to say there has been progressive improvement in the series of governorship elections that we have conducted since 2011, culminating in the Ekiti election that we conducted two weeks ago, and which has been generally acknowledged as perhaps the best election that we have conducted so far. On the 9th of August, we have another election in Osun State and we are doing everything possible to ensure that the Osun election is better than Ekiti."
Professor Jega restated INEC readiness to conduct the 2015 general election in all states of the federation, despite security threats in some areas. He said: "We know that both nationally and internationally, there are concerns about the 2015 general election, partly because of the challenges of security in some states. On our part, we have been doing our best to ensure that we are able to conduct elections in those areas; and we have been working very closely with security agencies to ensure that there is adequate security for the conduct of election in those states."
The Commission, according to him, has improved its engagement stakeholders – including political parties, security agencies and civil society organisations, among others – in order to deepen the political process. "We have periodic meetings with these stakeholders where we explain what we are doing and we receive suggestions for improvement; and we take these suggestions on board as we continue to improve the process," he said.
The Chairman also acknowledged the support of the international community for Nigeria's electoral process. "Our development partners have been very helpful, other friends of Nigeria have generally been helpful; they have encouraged us and shown understanding, and that also has gone a long way to contribute to our continuous improvement of the electoral process."
The Chinese envoy, in his remarks, said there is much that his country and Nigeria could mutually learn from each other's electoral experience. He added that Nigeria being an important country in Africa, global attention is on the country as it prepares to conduct the 2015 general election.
Kayode Robert Idowu
Chief Press Secretary to INEC Chairman