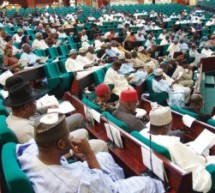 he Senate yesterday  withdrew the controversial Clause 9 of the proposed constitution which empowers the President to initiate a new constitution.
Poor attendance by senators yesterday stalled the voting  on the  proposed new amendments to the 1999 constitution after the lawmakers concluded debates on the proposals last week.
Last week, the attempt to give the president constitutional powers that allows him to initiate a new constitution  divided the Senate.
A majority of the senators who opposed the inclusion of the  president in the initiation of the new constitution said it may be an attempt by  President Goodluck Jonathan to sneak in the referendum of the ongoing national conference into the constitution and, in the process, usurp the powers of the National Assembly
Most senators who supported the bill said the amendment is in tandem with Senate rules which states that "there is already provision for three classes of bills, namely members' bills, executive bills and private member bills."
However, Deputy Senate President Ike Ekweremadu , who is the chairman of the Committee on the Review of the 1999 Constitution, said the committee in its own wisdom had decided to withdraw Clause 9 of the proposal
"During debates on the proposed amendment to Section 9, there were some issues that arose and the Committee on Constitution Review decided to meet yesterday to review some aspects of our proposals. The committee resolved and mandated me to seek the indulgence of the Senate to withdraw further amendment to Section 9, but every other item would remain. So, on behalf of the committee I make this solemn application."   […more]