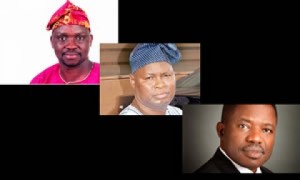 The Peoples Democratic Party (PDP) Screening Committee on 2014 Ekiti Gubernatorial Election led by Senator Victor Ndoma-Egba has released the result of its screening  exercise.
Of the 16 gubernatorial aspirants, 13 were cleared while 3 were denied  clearance to partake in the party primaries that will eventually present a candidate for the party in the upcoming election in the state.
Among those cleared include a former governor of the state, Ayodele Fayose. Mr. Fayose is currently facing charges of corruption proffered by the Economic and Financial Crimes Commission (EFCC).
Also cleared was Bodunde Adeyanju, an aide to former President Olusegun Obasanjo, who was a central figure accused in the Halliburton scam for passing bribes to the former President and top People Democratic Party leaders.
A former minister of police affairs, Caleb Olukolade was also cleared.
Below is the full list of candidates cleared by the screening committee:
1. Amb. Oluwadare Bejide
2. Navy Capt. Olubolade Caleb (Rtd)
3. Prince Adedayo Adeyeye
4. Ayodele Fayose
5. Adeyanju Bodunde Sunday
6. Erelu M. Ogundepe
7. Jacob Abiodun Aluko
8. Adewale Aribisala
9. Oladeji J. A. Omoyeni
10. Sen. Olugbenga Aluko
11. Oluropo Ogunbolude
12. Dr. Omolara Adubiaro
13. Ajayi Ayodeji Eldad
However, Bosede Cecilia Dada, Senator Bode Olowoporuko and Peter Obafemi were not cleared to partake in the state primaries
The result of the screening shows that Bosede Cecilia Dada presented no evidence of payment of party membership dues, no West African School Certificate and no tax clearance certificate.
Source: http://saharareporters.com/news-page/ekiti-gubernatorial-race-pdp-screening-panel-clears-olukolade-fayose-bodunde-adeyanju-and-