The House Committee on Ethics and Privileges has been directed by the members of the House of Representatives to investigate an allegation that defected members of the All Progressives Congress, APC, were induced with a bribe of $1 million to defect to the Peoples Democratic Party, PDP.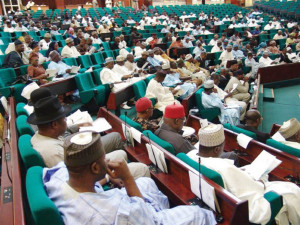 This came following a motion brought on the floor of the House by Rep Kingsley Chinda, PDP, Rivers under 'matters of national importance'.
Chinda after the presiding officer, Aminu Tambuwal, had given him the floor, showed members a national daily where it was alleged that lawmakers who defected on Tuesday were given $1 million each to dump APC.
"The integrity of all lawmakers of this assembly before the electorate is at stake if the statement credited to the interim National Publicity Secretary of APC, Mr. Lai Mohammed is not investigated immediately. There is need to get to the root of the matter immediately by the Ethics and Privileges Committee and whoever is found guilty should be sanctioned," said Chinda.
He stressed further that "this was how the Governor of Nasarawa State, Tanko Al-Makura, last week alleged that the lawmakers in his state that defected to PDP were bribed with N50m each".
"It will be shameful if this matter is not investigated immediately as it will adversely affect all the good things the seventh Assembly had done," he stressed.
Speaker of the House Aminu Tambuwal therefore mandated the Committee on Ethics and Privileges to probe into the matter and submit its findings in two weeks.
Source: http://www.informationng.com/2014/02/house-probes-alleged-1m-bribe-for-reps-to-join-pdp.html